Quilting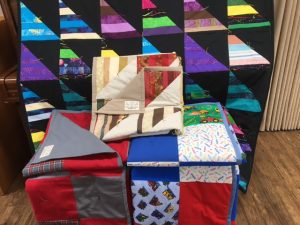 Quilting activities include making quilts for Lutheran World Relief, local needs, and for graduating seniors. We meet on the last Tuesday and Wednesday of each month. Tuesday's from 9 am until 3 pm. Wednesday's from 9 am until noon. We eat well, talk much, and laugh often. All are welcome-even if you can't sew a button!
Circles
Circles meet at different times for the convenience of all women of Bethel Church. Their primary purposes are for Bible study and to assist with activities of the church. Contact the church office for more information.
Funeral Meals
When there is a funeral at the church, women call volunteers to supply food. They set up, serve the meal, and clean up afterwards.
Christmas Kids Project
Members sign up during the Christmas season to go shopping for needy families.
BLCW
Women of Bethel meet monthly for coffee, Bible study, and scheduled meetings to discuss projects.
Nursing Home Activities
Women offer rides to assist residents to attend church. Bingo parties offer residents a fun time.